Hae-Ran Lee and Hye-Jin Choi secured a sixth place finish on the first day of the LPGA Kroger Queen City Championship.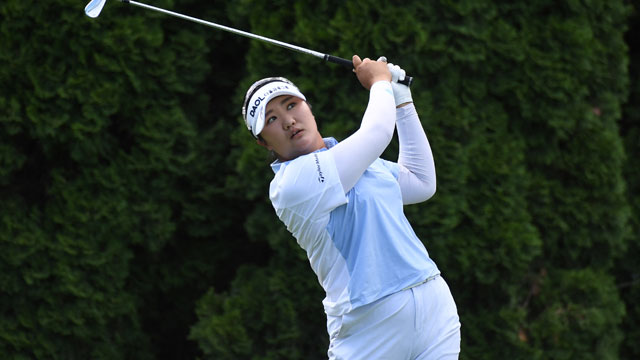 Rookie Hae Ran Lee and second-year player Hye Jin Choi are tied for sixth place after the first day of the Kroger Queen City Championship on the U.S. Women's Professional Golf (LPGA) Tour ($2 million purse).
Ryu and Choi shot a combined 5-under 67 in the first round of the tournament on Monday (Aug. 8) at Kenwood CC in Cincinnati, Ohio, USA.
They are two strokes off the lead with Liu Ruixin (China) at 7-under 65.
She is one stroke behind tied for second place with Jen Bei-Yun (Chinese Taipei), Elizabeth Shokol (USA), Dottie Adina (Philippines) and Linea Strom (Sweden).
Hae-ran got off to a solid start with five birdies without a bogey on the day.
Hae-ran, who finished the Qualifying Series in first place overall last December, leads the Rookie of the Year standings this season with 598 points, ahead of Grace Kim (AUS – 512).
While she has yet to win a tournament, Hae-ran has five top-10 finishes in 18 events. Her best finish was a third-place finish at the Mizuho Americas Open in June.
Choi, in her second year on the LPGA Tour, is also looking for her second top-10 finish of the season after carding five birdies without a bogey.
After a solid year last year with 10 top-10 finishes in 10 events, Choi has cooled off a bit this year. A tie for eighth at the Meyer Classic in June is her only top-10 finish.
Park Sung-hyun and Shin Ji-eun are tied for 36th (2-under 70), Ju Soo-bin is tied for 49th (1-under 71), and An Na-lin is tied for 69th (even-par 72).
Lee Jeong-jeong, 27, who tied for fourth in this event last year, struggled to a tie for 88th (1-over par 73).
Rookie Hyo-Jun Jang, 먹튀검증토토사이트 who earned his first top-10 finish at the Portland Classic on April 4, also finished at 1-over par.