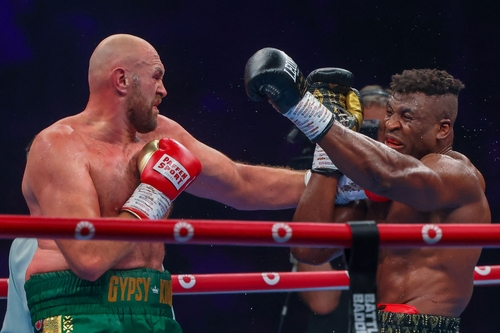 Middle Eastern oil producers are using their 'oil money' to take over the global sports market.
The Washington Post (WP) highlighted the emergence of Middle Eastern oil producers as "big players" in the global sports market in a feature story titled "THE NEW KINGS OF SPORTS" on Sunday.
The "fight of the century" between professional boxing WBC heavyweight champion Tyson Fury and mixed martial arts star Francis N'Ghanu took place not in Las Vegas, USA, but in a ring in Riyadh, Saudi Arabia, on March 29. The boxing promoters who organized the fight partnered with Saudi Arabia.
"They're dominating the game, and in five, 10 years, they're going to be a major player in all sports," Pew said, predicting that "all the big sporting events are going to be in Saudi Arabia."
The National Basketball Association (NBA), looking for a location for a preseason game, has partnered with the UAE, and Monumental Sports, an American company that owns seven sports franchises, has found new deep-pocketed investors in Qatar.
"The influx of money from the Middle East is reshaping the global sports power structure," WP said, but it's also sparking controversy over where the money is coming from.
He pointed to a number of controversies that have emerged in the Middle East around human rights issues for women, laborers, and LGBT people. Some have criticized the Middle Eastern countries' investments as "sportswashing," using sports to erase accusations of human rights abuses.
In the case of Saudi Arabia, there have been allegations of links to events that have hit the United States, such as the September 11, 2001 attacks and the assassination of WP dissident journalist Jamal Khashoggi.
Despite the controversy, "it's becoming harder for (major sports) leagues, teams and athletes to say no to money from (Middle Eastern countries)," WP said, adding that the result is a global realignment of sports resources and influence, a trend that is likely to accelerate.
"We are starting to see the intersection of geography, politics and economics shaping sport," said Simon Chadwick, a professor at Skema Business School in France, adding that countries are using sport to establish identity, build power and influence.
WP noted that Middle Eastern countries have continued to invest in sports despite the turmoil in the region following the war that began with a surprise attack on Israel by the Palestinian militant group Hamas on July 7.
Middle Eastern countries have acquired top European soccer clubs such as Paris Saint-Germain (Qatar), Manchester City (UAE), and Newcastle United (Saudi Arabia), and Middle Eastern companies such as Saudi state energy company Aramco (Formula One), Qatar Airways (NBA), and Emirates (US Open) have poured money into the US sports market.
Especially after Qatar hosted the World Cup, Middle Eastern countries are eager to host big sporting events. Saudi Arabia has been tipped to host the 2034 World Cup, and there have been reports that Qatar will bid for the Summer Olympics.
WP noted that it is not uncommon for a country to use sports to showcase its status on the world stage, noting that Europe and North America have dominated world sports for decades.
The 1988 Summer Olympics in Seoul, South Korea, laid the groundwork for the growth of sports in Asia, reintroducing South Korea to the West and spurring China's Olympic bid, WP noted.
Chadwick called this period "Sport 2.0," saying that "globalization and free trade opened up (new doors for sport) around the world.
The next phase, he said, was "Sport 3.0," when more Arab countries 카지노사이트 began to take an interest in sport, with the digital media boom and countries using sport as a means to achieve broader policy goals.
As sports budgets have been slashed around the world, including in Europe, traditional host nations have been unable to afford big-ticket sporting events such as the Olympics, and more well-funded Middle Eastern countries have turned to the sports market.
"In sports terms, we're not even in the middle of the first quarter," sports consultant Mark Ganis told WP, calling it "a megatrend that will grow for the next decade or more."